Desiccant & Mechanical Dehumidification Systems for Industrial Applications



As a representative of Munters Industrial Dehumidification we can supply and configure a wide range of dehumidifiers and dehumidification systems, with air volumes as low as 50 cfm up to and beyond 100,000 cfm. Munters manufactures and services Cargocaire desiccant dehumidifiers and dehumidification systems. Our equipment removes moisture from the air, which allows you to control humidity in your buildings and industrial processes to very low levels. Our equipment is used by more than 20 major industries which use our products for more than 150 different applications. All dehumidification up to 9.000 cfm units are available for rent so you can try them before you buy for urgent or temporary situations.
> Integrated Custom Air Handler (ICA)
> Modular Units with Options (HCD)
> Large-Scale Modular Dehumidifiers (HCE)
> Special Purpose Dehumidifiers >
» View Munters' Dehumidification brochure for more information [PDF 1385 KB]
Stand-alone Dehumidifiers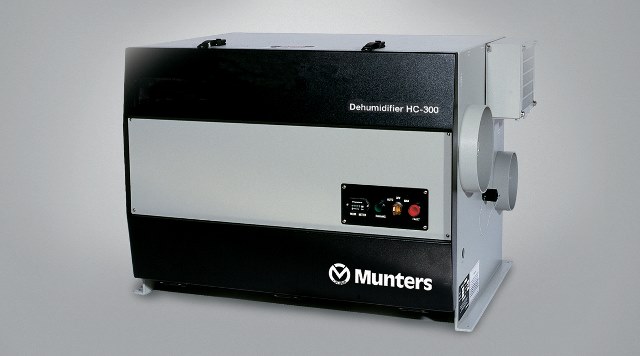 Small stand-alone desiccant dehumidifiers used in smaller rooms, chambers or storage applications. In stock or quick lead-times.
Capabilities:
30-300 scfm airflow range
Durable aluminum construction
Compact and efficient design
CE or ETL Certified
Humidistat control option
» MG90 [PDF 153 KB] » HC-150 [PDF 195 KB] » HC-300 [PDF 192 KB]
Integrated Custom Air Handler (ICA)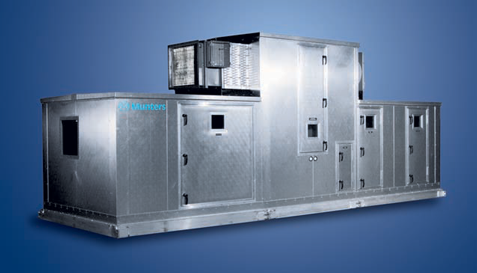 The ICA is a state-of-the-art double wall custom air handling system. Its unique panel design provides a true no through metal construction. Panels are available in 2.5″ and 4.0″ thick construction to prevent external condensation in even the toughest environments. The large, smooth-fitting panels of the ICA create fewer joints, preventing leaks and improving sanitation. The ICA concept can save thousands of dollars and reduce coordination problems on the job site because the system arrives ready-to-run after connection of duct work and utilities. Your in-house design time is reduced and on-site construction is simplified. And for ICA systems, factory-trained service engineers are available for start-up and service contracts. » View the Brochure [PDF 874 KB]
Available with Customization:
Engineering and Full Assembly
Conditioning System including Cooling and Heating Elements
Airflow capacities from 400 to 100,000 scfm
Control Packages
Power Purge Option [PDF 874KB]
Commonly used in:
Bio Tech/Pharmaceutical
Archives
Food Processing
Clean Rooms
Modular Units with Options (HCD)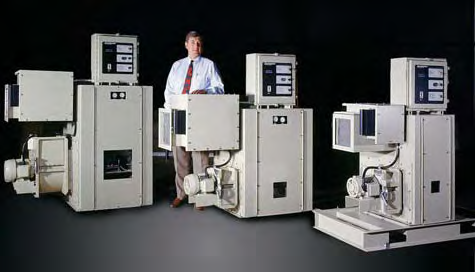 For customers who need to integrate desiccant dehumidifiers into their own processes or air conditioning systems, we offer the HCD-series. These modules can be combined to form even larger systems. Along with the basic HoneyCombe rotor-drive-and-seal assembly, we can provide your choice of process and reactivation fan and either gas, steam or electric reactivation heater modules for you to integrate into your system. We can also supply modular heating and cooling coils and filters in air-tight enclosures to work along with the dehumidifier. These modular dehumidifiers are used in a very wide variety of applications from preservation of classic films to chocolate coated candy and dry air systems for pharmaceutical manufacturing. » View the Brochure [PDF 145 KB]
Capabilities:
Capacities from 400 to 12,000 scfm
Basic HoneyCombe Rotor-Drive-and-Seal Assembly
Supply Modular Heating and Cooling Coils
Filters in Air-Tight Enclosures
Modules can be combined
Large-Scale Modular Dehumidifiers (HCE)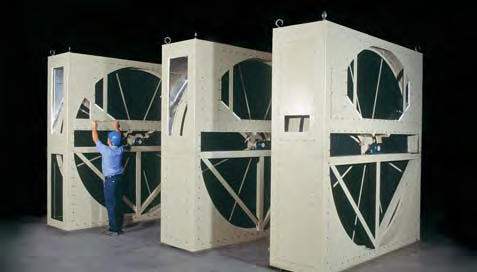 To dry airstreams larger than 10,000 sfcm that do not require treatment other than dehumidification, our HCE series of modular units are the ideal choice. Available in four sizes from 15,000 to 40,000 scfm, the HCE modules can be combined to dry airflows of any size. Our modular approach to large airflows is economical compared to a single-unit design because individual modules can be brought on-line or shut down as the moisture load changes. This avoids the cost of running a single large unit for a small moisture load. In some cases, the energy cost savings of a modular approach to large systems can be measured in tens of thousands of dollars per year.
Capabilities:
Four Sizes from 15,000 to 40,000 scfm
Economical Compared to a Single-Unit Design
Energy Cost Savings
Special Purpose Dehumidifiers
Occasionally, you made need dehumidification solutions that are highly specific to a single purpose. For example, we can design dehumidifiers with special materials and stringent vibration and noise specifications to dry out missile tubes in the Trident Nuclear Submarine. We also provide special portable dehumidifiers with structural bases and large casters which are used for temporary drying of buildings and emergency replacements in industrial processes. We can respond to unique situations, giving you just what you need at a price which meets your budget. » IceDry® Series Desiccant Dehumidifier » FreezAire » MODEL DEW 50
Capabilities:
Highly Specific to a Single Purpose
Portable Dehumidifiers with Structural skids and cages for lifting purposes.
For Unique Situations
Military
For Shipping Ports and Vessels
Available Portable and Mobile